Pick'em News and Notes For NFL Week 1 2020
A running tally of news, notes, and observations impacting the 2020 NFL Week 1 pick'em pool landscape, straight from the TR Nerds.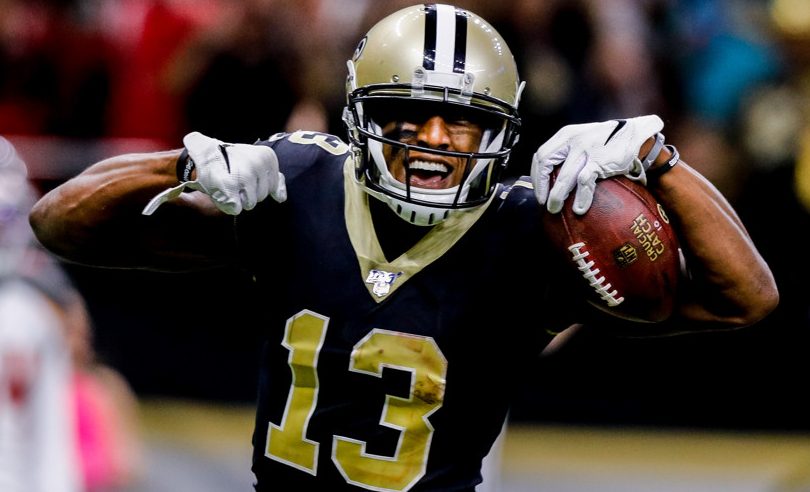 (Photo by Stephen Lew/Icon Sportswire)
Monday, September 14th (12 pm ET)
The first NFL Sunday of 2020 is in the books, and it was a wild one that featured plenty of upsets and wild in-game swings.
The biggest upsets were Indianapolis losing to Jacksonville, Philadelphia losing to Washington, and San Francisco losing to Arizona. None of those three upsets were highly picked by the public, as only 14% picked the Jaguars, 10% picked Arizona, and 9% picked Washington.
As far as our pick recommendations go, it was a bad week for value picks — games in which the public is picking a team at a higher rate than its actual odds to win.
Those situations often enable you to create the pick differentiation you need to win a pool with minimal or no added risk, but the biggest ones of Week 1 like Atlanta (which closed as 1-point favorite over Seattle, yet was only being picked by about 1-in-4 pick'em players) didn't come through.
Looking for value plays is an important part of our strategy, so that set us back a bit vs. the public on Sunday. The public is averaging 8.1 wins in game winner based NFL pick'em pools as we head into Monday Night Football, while our subscriber pick recommendations for season-long pools averaged 7.7 wins (for the "Avoid Bad Finish" goal) and 7.5 wins (for the "Maximize Profit" goal).
How close are our pick results to being above the public average entering Monday Night Football in Week 1, though? Well, as it turns out, "the Lions blowing a huge fourth quarter lead and then DeAndre Swift dropping the game winner" close.
That was a fairly high leverage game with a solid percentage of public entries picking both sides. So that result was painful, but those plays will balance out over time.
Depending on the Monday Night results, most of our pick'em subscribers in season-long game winner pools should in the middle of the pack or just below the middle in their pools. Of course, your specific position in the standings is highly subject to the picking vagaries of your pool this early on, and will depend on how many of your opponents get lucky during Week 1.
This is also a good time for a public service announcement about how week to week results will always vary, and you need to stick with a sound strategy over the long term in pick'em pools. Our customers win pools a lot more often than expected, but very few of them lead wire-to-wire, and especially not after just a week or two.
Last year, for example, our pick recommendations for season-long game winner pools were running about even with the public after Week 7 — up some weeks, down others. Over the last 10 weeks, they surged to averaging over 8 more wins in a season-long pick'em pool compared to the typical entrant. Here are some specific examples.
If you want to see exactly how our picks did week by week last year, below is the performance for our 2019 "Starr" pick set in the Quick Picks section (a representative set of picks for a season-long pool) versus the public's average wins each week:
| 2019 NFL Week | TR "Starr" Quick Picks Wins | Avg. Public Wins | Difference |
| --- | --- | --- | --- |
| 1 | 10 | 10.6 | -0.6 |
| 2 | 11 | 9.6 | 1.4 |
| 3 | 9 | 9.9 | -0.9 |
| 4 | 7 | 7.2 | -0.2 |
| 5 | 9 | 8.6 | 0.4 |
| 6 | 7 | 7.8 | -0.8 |
| 7 | 10 | 9.3 | 0.7 |
| 8 | 13 | 12.3 | 0.7 |
| 9 | 8 | 8.3 | -0.3 |
| 10 | 5 | 5.2 | -0.2 |
| 11 | 12 | 10.8 | 1.2 |
| 12 | 11 | 9.5 | 1.5 |
| 13 | 9 | 8.5 | 0.5 |
| 14 | 12 | 10.1 | 1.9 |
| 15 | 11 | 10.6 | 0.4 |
| 16 | 11 | 10.5 | 0.5 |
| 17 | 11 | 8.8 | 2.2 |
| TOTAL | 166 | 157.6 | 8.4 |
Sunday, September 13th (10am ET)
The first NFL Sunday of 2020 is here! Not much has changed, yet, as we head toward kickoff.
The biggest recent line movement has been the Eagles, where the point spread moved down to Philadelphia by 5 points over Washington after Eagles RB Miles Sanders was officially ruled out. Still, the Eagles are still the favorite there, so in game winner season-long pools, you will still almost certainly see Philadelphia as the pick.
The biggest issue may be in San Francisco, where the air quality still has the 49ers-Cardinals game in some doubt if the air quality gets worse by game time, which is at 4:25 pm ET. The impact of potentially playing in such terrible air quality, and whether that fact may impact the 49ers or Cardinals in a significantly worse way, is a unique situation beyond the scope of predictive models.
That's why our system also leans on betting market data, which is likely the best evaluator out there when it comes to one-time freak events like this one. If there is a noticeable shift in betting odds on either team, our system will pick it up and incorporate that information into your next pick update.
(On that note, just a final reminder that we always recommend you update your picks as late as your personal schedule and your pool submission deadline allow, so they factor in the most recent matchup and pick popularity data we have.)
If you've got time for a little bit of learning today, you can read some of our thoughts on playing in pools that feature both season and weekly prizes.
Saturday, September 12th (6pm ET)
We wanted to share our appearance on the FantasyPros podcast, where we (Jason Lisk and David Hess of TeamRankings) discussed survivor and pick'em pool strategy as well as other picks and projections for the 2020 NFL Season.
As for the games, we are seeing a couple of line moves that are going against the pick popularity numbers. The Atlanta Falcons-Seattle Seahawks line has dropped to 1 point, while 76% of the public is going with Seattle. Dallas has dropped to a 2-point favorite at the Los Angeles Rams, and are being picked by 63% of the public. Atlanta has been in the value picks for weekly contests all week because of the extreme pick popularity split in what is closer to a toss-up game. Meanwhile, you might see the Rams start to sneak into some pick recommendations in weekly contests as a value gamble based on the line moving downward.
Friday, September 11th (1pm ET)
For this opening Friday, we thought we would highlight some strategy for those of you in Against the Spread (ATS) pools, including "Pick 5" type pools where you get to choose which five games you want to pick that week. In our strategy article "Why The Rules Of Your Pick'em Pool Should Influence Your Picks" we go through some of the strategies that impact winning various types of pools. (So whether you are in spread pools, confidence pools, straight up winner pools, you should check it out to understand why we may be making various suggestions.)
ATS pools are more volatile than picking game winners. This is because some games have high win odds for the favorite if you are just picking game winners, but almost every outcome in spread pools is much closer to 50%. Because of that dynamic, paying attention to pick popularity to provide value and to differentiate your entry becomes more important.
Further, if you are in a Pick 5 style pool (the most famous one being the Westgate SuperContest), rather than a spread pool that picks every game each week, you have a far more limited number of opportunities. There are only 85 total outcomes to decide the contest, rather than 256 for a pool that uses every game. It becomes harder to "go opposite" the entry you are competing against for first place, because you don't know which specific games that entry will pick, even if you have a sense of some of their picking patterns.
There was an article by PlusEVAnalytics this summer, specifically looking at picking patterns in the SuperContest. Some of it confirmed what we already know from incorporating pick popularity into our spread pool strategy. The public tends to favor taking favorites relative to underdogs, and we see this all the time. (Still, it's good to see confirmation that participants who spent for entry in the SuperContest–which is actually less expensive to enter this year at $1,500–behave similarly to those in smaller spread contests around the country.)
In Week 1, for example, in the nine games where the public is taking one side against the spread 60% or more of the time, all of them are betting favorites. Of the sixteen games on the schedule, Green Bay (+2.5 at Minnesota) is the only underdog currently drawing greater than 50% of the public's picks against the spread.
Thursday, September 10th (3pm ET)
The first NFL game is tonight! Kansas City still continues to be the largest favorite of the week, favored by 9 points. Around 97% of the public is picking the Chiefs in game winner pools, so there's not much advantage to be had on the results of tonight's game. If the Texans do win, and your friend claims to have picked it, make them show you the receipts.
But there have been some other games with some line movement that we want to highlight.
One big piece of news was Von Miller's injury. The Denver-Tennessee game (which is the final late night Monday game of Week 1) was close to a pick'em before that news, with the line fluctuating very near that earlier in the week. But with that news, Tennessee has moved to a 2.5-point favorite against Denver. That move solidifies Tennessee as the more likely choice in season prize pool formats. In weekly contests, because Tennessee already had higher popularity (67%), you may see some fluctuation in who will be recommended.
Another big line movement occurred with Pittsburgh, who has moved to a 5.5-point favorite this week (they were at -4 on Sunday) when they play at the Giants. Pittsburgh was the likely choice anyway in season-long prize pools, but the movement solidified that. For those playing in confidence point pools, that line movement also explains why you may be seeing the Steelers showing up as a 10+ point confidence play.
Finally, the line in the Eagles-Washington Football Team game has dropped a point this week, now with the Eagles favored by 5.5 points. That movement is likely explained by some injury concerns. Starting running back Miles Sanders, starting tackle Lane Johnson, and first round pick Jalen Raegor were all limited in practice this week and their status for the game is up in the air.
Tuesday, September 8th (10am ET)
The NFL Week 1 schedule has an even split of games, with eight games that feature point spread margins of at least 5.5 points, and another eight games where the spread is between 1 and 3.5 points.
As you might expect, the pick popularity for the favorites in the former group is at least 80% in every game. However, the least popular big favorite of Week 1 is Indianapolis (at Jacksonville), despite having the second-highest point spread of the week right now. That value is why you might see the Colts as a top confidence point play in weekly prize pick sets. (Here's more on weekly vs. season prize strategy.)
Meanwhile, it's the other subset of games, the closer matchups, that are likely to decide the early leaders in pool contests coming out of Week 1. All the betting favorites are also being picked by the public more than half the time, but the pick popularity does not always line up with objective win odds and point spreads among this group.
Seattle, for example, is hugely popular for a 2-point favorite (77% pick popularity) at Atlanta. But the Seahawks have the second-lowest win odds of any favorite this week. So if you see Atlanta show up as a value upset pick if you are playing for a weekly prize, that extreme value difference is why.
You can also read our Week 1 Value Picks article to see other potential value plays this week.
Monday, September 7th (11am ET)
Welcome to the 2020 edition of our Football Pick'em Picks pro.
Whether you are new around these parts or a returning subscriber, we want you to know that we appreciate you and look forward to helping you make the most informed pick decisions this year.
Every week during the 2020 season, including the playoffs, we will publish a Pick'em News and Notes article like this one. It will be updated throughout the week with things like:
Comments on major line movements, prediction and pick popularity shifts throughout the week
Explanations of why certain teams may be showing up in your pick recommendations
"Rooting guide" style comments about upcoming high leverage games for TR picks
Results/recaps of the past week's outcomes and their relative impact on TR subscribers
Other random observations by the TR crew
So be sure to check it out whenever you come in to use the product.
Whenever we add an update to these weekly articles, we will include a date and time stamped header. We'll also list the most recent update at the top of the post, so you will see the newest info first.
AMAZING NEW TECHNOLOGY ALERT!
Finally, in case our returning subscribers don't notice, hopefully these words right here now look a heck of a lot prettier to you! After years of grumbling about it, we finally spent time in the offseason updating our content management system for our pool picks products.
More importantly, we published a bunch of new help articles and strategy articles.
And while this is so embarrassing to admit, we can now even do amazing things like put clickable web links right into this copy, as the last sentence proves. Only 25 years behind the curve in web publishing technology there! But hey, priorities. You're not subscribing to TR for a bunch of pretty looking words.