12 Value Picks For College Bowl Pick'em Pools in 2020
Maximizing your edge a bowl pick'em pool often requires some educated bets on underrated teams. Here are the top bowl value picks of 2020.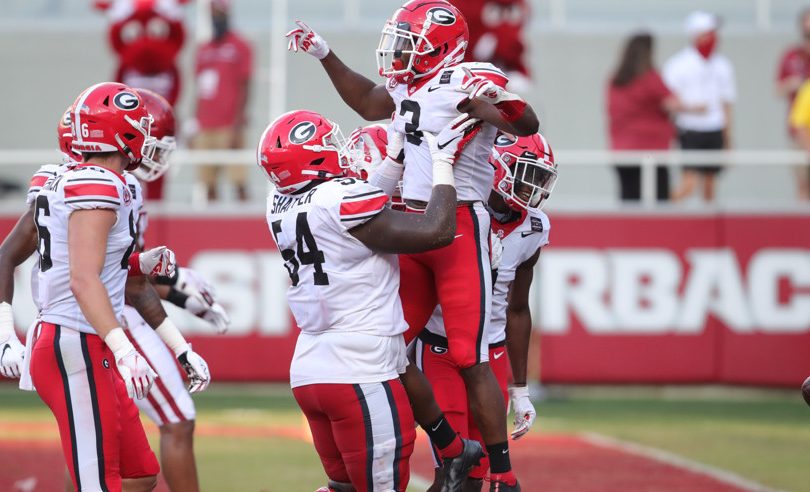 Georgia is a favorite against Cincinnati, but still comes at a value in pools (Photo by John Bunch/Icon Sportswire)
In this post we identify high-opportunity picks that will help you increase your odds to win your 2020 college football bowl pick'em contest.
From underrated favorites to sleeper upset picks, the picks we mention in this post balance risk and reward in a way that gives you the best chance to leapfrog your opponents in the bowl pool standings.
(If you're new to TeamRankings, we recommend you read our college bowl pool strategy guide for a deeper explanation of the logic behind our proven, value-driven approach to bowl pool picks.)
But if you're short on time, we've analyzed all 29 bowl matchups this year using the Data Grid feature of our Bowl Pick'em Picks product, and identified every game where the general public is sleeping on a particular team, compared to objective measures like betting market odds and leading computer projections.
Common Causes Of College Bowl Value Picks
With 29 bowl games to pick in 2020, there are plenty of opportunities for bowl pool players to fall prey to sub-optimal decision making when it comes to making their picks. The reasons why can vary, but as an example, we usually see at least a few of the following examples every year:
Ranked vs. Unranked Team. A team that is ranked in the end-of-season AP Top 25 is playing an unranked team, but the unranked team is actually the favorite in the betting markets. The public is misled by the poll ranking, and overvalues the underdog.
Great Win-Loss Record vs. Barely Winning Record. A team with very few losses is playing a team that barely has a winning record (or in the case of 2020 bowl games, even a losing record!), but the team with the worse record is actually the better team. The public fails to account for a harder strength of schedule faced by the team with the worse record, and overvalues the underdog.
Historical Powerhouse vs. Relative Unknown. A historically very strong program from a celebrated conference has had a bit of a down year, and is playing in a mid-tier bowl game against a much less famous school. The brand recognition of the storied program causes the public to pick the "famous" team at a higher rate than warranted by objective metrics.
Those are just a few of the dynamics that can give educated bowl pool players the edges they need to win bowl pick'em contests far more often than expected. From a risk vs. reward standpoint, undervalued teams — whether they are underrated favorites or unpopular underdogs that have a legitimate shot at pulling off an upset — represent the best opportunities to gain ground on your opponents in the pool standings.
Our Process To Identify Underrated Bowl Picks
Doing the work required to properly identify underrated teams in bowl pick'em pools takes several steps, a lot of data, and some very specific know-how we've accumulated over years of doing it.
The basic steps are as follows:
Aggregate up-to-date betting odds on all bowl games from leading sports books.
Project every bowl game with our market leading computer power ratings.
Collect pick popularity data from multiple national bowl pick'em contests.
Adjust pick popularity data to account for biases inherent in source sites.*
(*This is the "specific know-how" part. As an example, pick popularity data from ESPN's Bowl Mania game is skewed by various "auto-fill" options the game promotes to users. As a result, ESPN's data is less likely to accurately reflect pick popularity trends in smaller, private bowl pools not hosted on ESPN, so we adjust their data to counteract that skew.)
2020 College Bowl Value Picks: The Complete List
Once we've done our analysis, we group the picks worth mentioning into two categories: Value Favorites and Value Gambles.
As of post time, there are a total of 10 college bowl games in 2020 that are worth highlighting.
Value Favorite Picks
Teams that are favored in the betting markets are usually picked at a very high rate by the public in bowl pick'em pools. For example, if a team is a 7-point favorite (which means it has about 70% odds to win), it's not uncommon for 80% or 85% of the public to pick that team.
So when a favorite is being picked by the public at a similar or even lower rate than its odds to win, that's as close to a no-brainer pick as you can get. We call those picks Value Favorites, and they should feature prominently in most bowl pool pick strategies.
Definitely think twice about picking against the teams listed below, since there's almost nothing worse than making a risky upset pick that is also a trendy and popular pick.
1. Georgia (vs. Cincinnati, Peach Bowl) 
Cincinnati went undefeated and got buzz for a College Football Playoff spot, though they ultimately finished a few spots out. Georgia has two losses, but those losses were to Alabama and Florida, the No. 1 and No. 7 teams in the country according to our predictive ratings.
Georgia has also been much better offensively since a switch to J.T. Daniels at quarterback; he has started the last three games. Daniels has thrown 9 touchdown passes and averaged over 10 yards per pass.
Georgia is up to No. 4 in our predictive power ratings and is favored by a touchdown in this game. With nearly 30% of the public going with the upset pick here, likely because of the undefeated status for Cincinnati, it's wise to stick with the favored Bulldogs playing in Atlanta.
The next value favorite, though, is likely the most underrated favorite of the 2020 bowl season.