How Our Picks For College Bowl Pick'em Pools Did in 2019-20
Last bowl season, subscribers using our Bowl Pick'em Picks product reported winning a bowl pool prize more than twice as often as expected.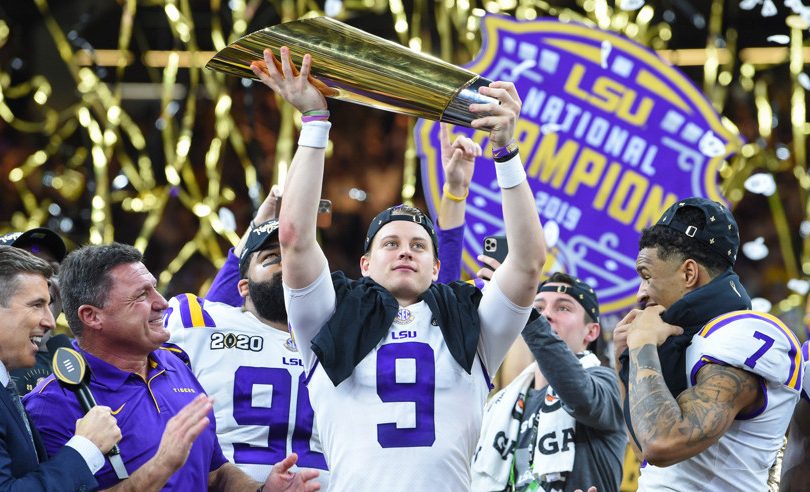 Joe Burrow and the LSU Tigers won the national title after the 2019 season (Photo by Ken Murray/Icon Sportswire)
With the 2019-2020 Bowl season in the record books, we can take a look back at how subscriber pick recommendations from our Bowl Pick'em Picks product performed in real-world college bowl pools.
As far as we know, we're the only company that collects performance feedback from real people using our picks in real college bowl pools. For the 2019-20 bowl season, 26% of our Bowl Pick'em Picks subscribers reported back to us, and the results are summarized below.
If you would like to see a summary of our long-term reported subscriber performance in bowl pick'em pools, you can check out the Bowl Pick'em Picks Performance Page.
How We Measure Bowl Picks Performance
We do not have a singular set of "official" TeamRankings pick recommendations for college bowl pools. What makes our Bowl Pick'em Picks product so unique is that it provides customized pick advice based on the size, scoring system, and other characteristics of each specific pool you enter.
That approach enables us to substantially increase our subscribers' edge in pools, but it also makes it a lot harder to measure how well our picks are actually doing across our entire subscriber base.
So there's really only one reliable way for us to measure the overall effectiveness of our Bowl Pick'em Picks product. We ask subscribers how they finished in each of their pools at the end of every bowl season, and compare their reported results to what one would expect, given the size of the pools in which they competed.
(If you're curious, at the very end of this article we provide more explanation about why we use customer surveys to measure our performance, and how we translate the results of those surveys into performance statistics vs expectations.)
2019-20 Bowl Picks Results
Results Across All Pool Types
Here is the high level summary of Bowl Pick'em Picks subscriber results for the 2019-20 college bowl season:
Our subscribers won a prize in 20% of the pools they entered.
Based on the pool sizes and prize distributions in all of those pools, one would expected an average pool participant to win a prize only 9% of the time.
That means our subscribers won a prize 2.1 times as often as expected in bowl pools they entered.
Overall, 28% of our subscribers won a prize in at least one of the bowl pools they entered, versus 14% that would have been expected to win a prize.
Results By Pool Type
As it turns out, the 2019-20 bowl season was mostly a year for favorites:
The betting favorite went 28-12 straight up in bowl games.
The nine largest favorites won their games outright.
12 of the 13 largest money line favorites won
Favorites went 20-19-1 against the point spread.
In comparison, during the 2018-19 bowl season, favorites went only 22-16 straight up and 17-21 ATS.
Game Winner vs. Against The Spread Pools
For 2019-20, the high win rate for big favorites led to better results in game winner based bowl pick'em pools, while the results for point spread based pools were disappointing.
In game winner based pools, subscribers reported winning a prize in 30% of pools, compared to an expectation of 10%. That means our subscribers in game winner pools won a prize three times as often as expected.
In against the spread pools, subscribers reported winning a prize in only 6% of pools, compared to an expectation of 9%. That means our subscribers in spread pools won a prize less frequently than expected this year.
Though we obviously would have liked better performance in spread pools, wide yearly performance fluctuations there are not uncommon. In spread pools, the point spread acts as the great equalizer; if you assume betting odds are pretty efficient, even a monkey throwing darts will have close to a 50/50 chance of getting any spread pick right.
That means spread pick performance in bowl pools is very susceptible to lucky hot streaks or unlucky cold streaks. As noted when we discuss some key games below, a stretch of games near New Year's Eve and New Year's Day were not kind to us in 2019-20.
Meanwhile, the game winner performance benefited from favorites (including large favorites) performing better than they had in recent years, and several value favorites (where the public was more heavily on the other side in games that were closer to toss-ups) winning.
Fixed Points versus Confidence Points Pools
The performance in both fixed points and confidence points pools was good overall in 2019-2020, with fixed points leading the way this time around.
Subscribers playing in fixed points pools won a prize in 21% of pools, compared to an expectation of 8%. That means fixed points subscribers won about 2.5 times as often as expected.
Subscribers playing in confidence points pools won a prize in 19% of pools, compared to an expectation of 11%. That means confidence point pool subscribers won about 1.8 times as often as expected.
Fixed point game winner pools leading the way in 2019-20 performance was not a big surprise. Although our subscribers get customized picks for their bowl pools, the average result across all recommendations was 30.1 wins (out of 41 games) in fixed point winner pools. That average would have ranked above the 98th percentile in ESPN Bowl Mania pools.
In game winner based confidence point pools, the average result was 30.3 wins. And as we will detail below, a handful of points likely kept the win rate for those pools from being even higher.
Bowl Picks Results by Pool Size
In a year where large favorites almost universally won, and the results were more mixed in some of the value plays on teams that were closer to even matchups, it's not a surprise that small pool performance led the way.
The highest win rate in 2019-20 was in pools with 25 or fewer entries. Our subscribers won 35% of the time compared to a prize-winning expectation of 15% (2.4x as often as expected).
The win rate was 2.1x as often than expected in pools of 26 to 50 entries, and 2.0x as often as expected in pools of 51 to 100 entries.
At very large pool sizes, performance in 2019-20 was slightly below average. For pool sizes of 251 to 1,000, 4% won a prize compared to a 5% expectation.
In smaller pools, our advice is to generally take more favorites and be more conservative in picking upsets, since many less-skilled pool players tend to employ pick strategies that are riskier than optimal for smaller pools. In larger pools, you generally have to take on more pick risk to differentiate your entry and increase your odds to win.
It just so happens that the conservative smaller pool approach was the more successful strategy in 2019-20.
Key Pick Analysis: What Went Right and Wrong In 2019-20
As a final step, we like to look back on specific bowl games to see if we benefited from good or bad fortune.
Even though we don't not have a single set of "best picks" for all subscribers, there are often still games that are high expected value picks in several different types of pools, that we end up recommending to a high percentage of subscribers.
In 2019-20, these were often games where one team was favored by a touchdown or less. Because of public pick popularity, there was relative value in taking one side strongly in those games. As a results, the outcomes of these games also played an outsized role in our overall subscriber performance.
Five Key Positive Games
The five most positive results for us in these higher-leverage swing games were the following:
Washington over Boise State
Navy over Kansas State
Air Force over Washington State
Iowa over USC
Ohio over Nevada
Five Key Negative Games
The five most negative results for us in the swing games were:
Mississippi State losing to Louisville
Virginia Tech losing to Kentucky
Wisconsin losing to Oregon
BYU losing to Hawaii
Miami losing to Louisiana Tech
Analyzing The Results Of 2019-20 Swing Games
Based on the way the above games went, our picks were a lot closer to even better results in 2019-20.
Of our five most positive swing results, four of the five teams won comfortably. The only one that came down to the end was Navy over Kansas State. But Navy even dominated that game statistically, out-gaining the Wildcats by more than 200 yards.
Meanwhile, three of the five negative swing results came down to the wire:
Wisconsin out-gained Oregon 322 yards to 204 yards, and held Oregon to 13 first downs. But they lost three fumbles, missed a field goal, and lost the Rose Bowl by one point.
Virginia Tech and BYU both had late leads that they surrendered in heart-breaking fashion in the final minutes of the game. BYU missed a 3rd and 2 pass that would have sealed the win before Hawaii's final drive. Virginia Tech allowed a touchdown pass with less than 20 seconds remaining and Kentucky having no timeouts left.
So while it's good to see our subscribers win at a higher rate than the public overall, our 2019-20 results also weren't driven by a few good bounces in close games. In fact, luck in close key games tended to work against our picks this past bowl season.
Taking Our 2019-20 Bowl Picks Performance In Context
Based on all the performance stats quoted above, both of the following statements are true, which is the often the case:
As a group, TeamRankings subscribers significantly outperformed expectations in 2019-20 bowl pick'em pools, winning more than twice as often as they "should" have.
At the same time, the majority of our subscribers did not win a prize in any bowl pools this past season.
As we always say, even with our help, you're never going to be expected to win a pool with 25, 50, or 100 or more entries in any given year. That's just probability at work. Even if we double or triple your odds to win a prize, you'll still need to have some luck on your side.
Over the long run, though, each individual subscriber's win rate should trend towards the overall average win rate for the TR subscriber base as a whole. Winning pools 1.5x, 2x, or 3x as often as expected in the long term should produce great overall profits.
Long Term Perspective Overcomes Year-to-Year Variance
It's also important to understand that our bowl pick performance can vary widely from year to year, often simply based on how lucky we get in terms of winning a small number of high-leverage, unpopular picks that are recommended to many subscribers.
This is especially true for bowl pick'em bowls, which typically involve picking on the order of 30-35 games. With a relatively small number of picks to make, a few key game outcomes will often make the difference between a prize-filled bowl season or not.
Even within a given year, our pick performance across different bowl pool types also may vary quite a bit.
For example, some years, a lot of favorites win, which typically works out better for our more conservative pick strategies in smaller pools. In other years, a few key upsets or unpopular picks that come through power great performance in larger pools, where our picks typically take more differentiation risk.
And even if our game winner picks do well, our point spread picks may not do well, or vice versa.
Given the nature of pools, from an investment perspective, a single pool win typically more than makes up for many years of not winning. So it's very important to "trust the process" over the longer term and ride out this year-to-year pick performance variance.
For example, the 2019-20 bowl season was very solid one overall for our bowl picks, after a couple down years. If you lost faith after 2018-19, you missed a great chance to score a big win last season.
Why We Survey Subscribers to Measure Bowl Picks Results
As far as we know, we're also the only site that collects data and transparently reports on how our recommended picks have performed in real-world customer pools.
From a marketing perspective, this approach is, quite honestly, a double edged sword. One the one hand, it makes us the only site with real-world evidence that we help subscribers win more pools, which is fantastic. That's the most important metric by which we measure our success.
On the other hand, it also reinforces the fact that it's really hard to win pools, especially bigger ones. As much as we'd like for all our customers to win prizes every year, we can't do anything about the fact that the majority of our customers that buy one of our pool picks products for one specific season will end up not winning anything.
That's just the nature of playing in pools. If someone doesn't understand the risks and probabilities involved, and is not willing to commit for the longer term, we'll probably never be able to meet their unrealistic expectations. By the same token, our business has thrived for many years now because there are enough people out there who understand the risks and the value TeamRankings brings to the table.
The Number Of Picks We Get Right Doesn't Matter. Winning Pool Prizes Matters.
Simply tracking how often our picks are right vs. wrong doesn't measure what really matters. In some pools, getting 70% of your picks right in a given year may win the pool. In other pools/years, that performance may not even come close to winning a prize.
Similarly, the same score that wins a $5 buy-in, small company office pool may not even come close to winning a prize in a $1,500 buy-in contest run by a Vegas sportsbook.
The optimal pick strategy for those two pools is almost certainly not the same, and our product will recognize that. It will probably give the small pool player more conservative picks (a "high floor" scoring strategy). It will probably give the larger pool player at least a few very contrarian picks that are more likely to lose, but would provide a legitimate shot at winning a huge pool if they come through (a "high ceiling" scoring strategy).
For all these reasons, the only way to understand if our picks are delivering on their promises is to ask our customers how they did.
Why Not Track Your Picks on ESPN or Yahoo?
Even tracking how our picks for a popular type of bowl pool (e.g. a 25-entry game winner based confidence pool) do on a big pick'em hosting site like ESPN or Yahoo! isn't good enough.
Let's say we track a pick set on ESPN and it finishes in the 97th percentile of all Bowl Mania players nationwide. A performance like that sounds great on paper and should win some prizes in 25-person pools, but there's no guarantee that most our subscribers' pools or opponents are reflective of ESPN's Bowl Mania game.
To know how those numbers translate to pool prize wins, we have to rely on our subscribers to let us know how they finished in their pools.
How We Calculate Prize Win Expectations
To calculate how often one should expect to win a prize in a bowl pick'em pool, we make the assumption that all players in the pool are equally skilled.
In real life that's not exactly true, since pools are usually filled with a mix of more skilled and less skilled pickers. But as long as it's a fairly even mix, this approach serves as a simple and "close enough" benchmark.
We also adjust prize win expectations for the payout structure of each subscriber pool, and for the number of entries a subscriber played in a specific pool.
For example, in a 100-person winner-take-all bowl pick'em pool, baseline expectations would give each player a 1-in-100 (or 1%) chance to win a prize, assuming they each entered once.
However, if the pool awarded prizes to the top three finishers, or if a player played two entries in the pool, then their chance to win a prize would be higher than 1%. We account for all of these factors whenever we quote prize win expectation numbers in this post.