College Bowl Confidence Pool Picks For 2020, Ranked From 1 to 28
From 28 confidence points down to 1, we list out our game by game picks and associated strategies for 2020-21 bowl confidence pools.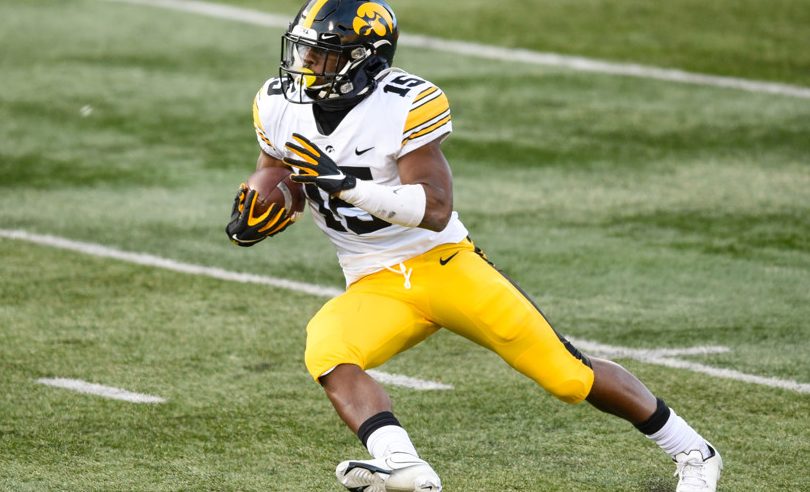 Iowa is among our top confidence point plays of 2020 (Photo by James Black/Icon Sportswire)
This post lays out our data-driven picks for a 2020 college bowl confidence points pool, ranked from 29 (most confident) to 1 (least confident) based on the number of confidence points that we assign each pick.
Confidence points pools are one of the most popular types of college football bowl pool formats. In some years, over half of all pools entered by subscribers using our Bowl Pick'em Picks product involve confidence points.
For pools picking game winners (as opposed to picking against the spread), confidence points pools often make up over 60% of the pools our subscribers enter.
How We Make Picks For Bowl Confidence Pools
From a pick strategy perspective, confidence points pools present a complex format, since they have many more potential options for constructing a pick set than just picking the winner of every game.
(For a general primer on bowl pool strategy, you should read our free college bowl pool strategy guide.)
Many bowl pool participants simply go through and rank teams in order of the games they are most confident that teams will win. This approach has two problems:
Ranking games you are personally most comfortable with, without considering more objective factors like betting odds or computer predictions, can lead to some very bad decisions.
Because you need to beat other people in order to win your bowl pool, you also need figure out your best opportunities not just to pick winners, but also to make picks that go against the crowd.
The TeamRankings Method For Winning More Bowl Pick'em Pools
The better (and proven) approach, which we employ, involves gathering objective game predictions from the betting markets and computer models, and then using national pick popularity data to identify underrated teams.
Using our strategies, subscribers in confidence point pools reported winning a prize in 19% of pools they entered last year, nearly twice as high a win rate as what an average participant should have expected to achieve, based on the associated pool sizes and payout structures.
2020 also presents a unique situation on account of a smaller number of bowl games to pick and potential future coronavirus impacts. We wrote an article about the strategy implications of those dynamics.
2020 Bowl Confidence Point Picks, Ranked From 29 down to 1
Below are confidence picks for a sample game winner based bowl pick'em pool with 30-50 entries, a common pool size. To get these picks, we created a few 30-50 person pools in our Bowl Pick'em Product, and made some judgment calls to blend the picks a bit.
The picks start with the highest confidence point ranking (28) and going down to the lowest confidence point ranking (1). Win odds and popularity data are current as of Tuesday, December 22.
Keep in mind that your bowl pool's size and format (e.g. game winner vs. point spread based) play a big role in determining your optimal pick strategy, as does staying on top of the latest betting lines and pick popularity data. In short, you always want to use the My Pool Picks feature of our Bowl Pick'em Picks product to get our most up-to-date pick recommendations for your specific pool.
With that said, in general:
If your pool is smaller than 30-50 entries, you will want to dial back some of the risk you see in the picks below, e.g. by having fewer underdog picks.
If your pool is larger than 30-50 entries, you probably want to increase the number of value-driven gambles you make, by bumping up the confidence points assigned below to the underdog picks and other picks we identify as value plays.
Note: This list is being published after the Appalachian State win, since the full bowl schedule just came out on Sunday December 20, and we didn't have time to publish it before. That game featured the largest point spread of the entire bowl season and our early advice on the Myrtle Beach Bowl was to use it as a high point confidence play. If you slotted it below the 29-point play in your picks, just slide the points for other games up.
Note #2: At post time the Gasparilla Bowl was uncertain to play after South Carolina pulled out due to COVID-19 issues, so that game has been removed from the list of picks. If a replacement team is invited, we'll add it back in after we have the appropriate data to make a pick.
28 Points: Appalachian State (vs. North Texas)
See Note directly above.
27 Points: Alabama (vs. Notre Dame)
Rose Bowl, January 1
Win Odds: 91%
Projected Pick Percentage: 97%
Yes, the second-biggest spread in a bowl game this year is in the national semifinal. Having Alabama available this late as a high confidence point play also gives you some flexibility if mid-bowl-season coronavirus weirdness strikes (only six games remain after this one).
26 Points: Houston (vs. Hawaii)
New Mexico Bowl, December 24
Win Odds: 83%
Projected Pick Percentage: 80%
Houston is 3-4 and Hawaii is 4-4, so the public is likely giving Hawaii more of a chance than it would give most 13-point underdogs. That makes Houston a good value play at the top of your confidence point picks, after taking the two biggest favorites of the bowl season.
Get access to all bowl pick'em pool content, picks and tools
Free subscription offers now available!
Already a premium subscriber? Sign in for access