Bowl Pick'em News and Notes: Alabama vs. Ohio State in the Title Game Tonight
We are down to four games before the title game, and it's time to make some strategic decisions with your remaining picks based on standings.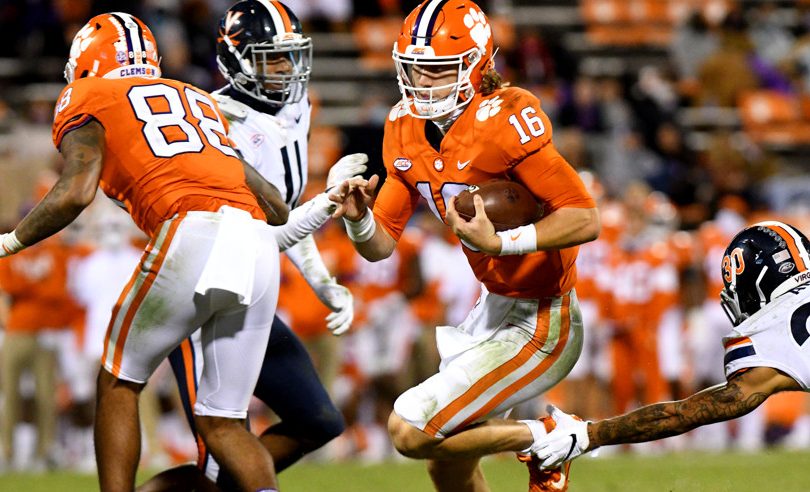 Trevor Lawrence and Clemson will play Ohio State in a national semifinal (Photo by Dannie Walls/Icon Sportswire)
Welcome to the 2020 edition of our Bowl Pick'em Picks product. In our news and notes, we will highlight information that could impact your bowl pool picks, ranging from news items to analysis to discussion of how various games impact our pool recommendations.
Below, you will find updates that include the following:
Monday, January 11: The national title game is here, where Alabama is favored over Ohio State.
Saturday, January 2: Four games left, and we discuss some end-game strategy
Friday, January 1: The playoff games are here, but there are two big potential games for pool picks before those kickoff.
Thursday, December 31: The New Year's Eve games feature two big value plays in the Armed Forces Bowl and Liberty Bowl
Wednesday, December 30: The point spread in the Cotton Bowl has shifted dramatically, with the Oklahoma Sooners now a big favorite
Sunday, January 11th at 3:30 p.m.
The National Title Game is tonight, between Alabama and Ohio State. Alabama is up to an 8.5-point favorite for the game. We project them with 77% win odds, and the pick popularity is currently 65% Alabama and 35% Ohio State.
If you are still alive to win a prize in a bowl pool with the result of this game, you need to make the best strategic call for your situation (if you can make or change your pick up until kickoff).
That means looking at the standings to know if the result of this game can swing the outcome and put you into a prize position, or keep you there. If you are in a confidence pool, it means knowing how many points you, and any opponent that matters, have available for the final game.
If you are in a leading position, then you want to stick with Alabama as the favorite, and put the odds to win in your favor. Since Alabama is also the more popular choice, there is a chance that people that need to go opposite fail to do so, and you have them covered.
If you are in a trailing position, you need to make a value judgment call. If you are outside prize money, but could get there if enough people lose in front of you and you get a win, you need to try to assess how you think your pool will react. With over a third of entries typically picking Ohio State, they don't have a lot of contrarian value, but if you think the entries you are facing are more likely to take Alabama, it might be the pick you need to make. However, if you are in a group with several others, staying with Alabama to secure a prize spot, and hoping a chunk of others play the upset, might be the better call.
Good luck tonight! In the coming days, you should get a survey by e-mail if you were a bowl picks subscriber, asking you about your results. Whether you won a prize or won nothing, we appreciate your input and answers as it helps us evaluate our picks.
Saturday, January 2nd at 11:30 a.m.
Five games to go, and four of them today.
Yesterday featured three favorites winning, and then a great performance by Ohio State to defeat Clemson and advance to the national title game against Alabama.
The public has averaged 12.9 wins in 21 games, while our recommendations have averaged between 14 and 16 wins, depending on when subscribers generated their final picks for a few games where the betting favorite switched on the day of the game. So hopefully some of you are in position to win a pool as we go into these final games.
If You Are Leading
You will want to stay with the favorites. Kentucky is a value favorite against NC State, while the remaining favorites are slightly larger:
Indiana (-10.5) vs. Mississippi
Iowa State (-5.5) vs. Oregon
Texas A&M (-7.5) vs. North Carolina
If You are Trailing
You probably need to find some upset picks, depending on how much you trail in a fixed point or confidence point pool. Since Kentucky is favored but being picked by 34% of the public, you will want to stick with them.
As for which of the other games you should consider taking the upset, it depends on how much risk you need to take on, as the popularity and win odds are largely in line. We project Oregon with 35% win odds, North Carolina with 27% win odds, and Mississippi at 22%. Oregon is the "safest" of the three if you are looking for the safest upset pick.
If you are trailing in a confidence pool, and need to make up ground on the leader, you should risk sufficient points necessary to make up that ground if the upset occurs.
Friday, January 1st at 11:30 a.m.
Happy New Year! The College Football Playoff games are here, as Alabama plays Notre Dame in the Rose Bowl (in Dallas, Texas) and Clemson and Ohio State face off in the Sugar Bowl.
But before we get to those games, we have two others that are pretty important for Bowl pick'em pools.
We only have nine games left in the bowl season, and after today, that will be nearly cut in half. So far, using our public pick estimates, the average pool participants has about 10.3 games right out of 17 so far. Meanwhile, the closing line betting favorite is 13-4 in bowl games, and that should closely mirror our recommendations in smaller pools where staying conservative is better. Further, in confidence pools, there have been some key value plays that have gone in our favor, including Mississippi State and West Virginia winning yesterday, and Oklahoma's big win over Florida in the Cotton Bowl.
So our educated guess is that plenty of entries are positioned to be in contention as we move into the final stretch of games.
Of course, you know how you are positioned in your specific pool as we move toward the end-game in bowl pools after today, and how much risk you need to take. That can help inform your picks.
Georgia is another value favorite today, and would be another important result in bowl pools. The Bulldogs are a 10-point favorite in the Peach Bowl, but are only being picked 71% of the time, compared to 76% win odds.
In the other non-playoff bowl, Northwestern is a moderate 4.5-point favorite over Auburn, with lower win odds than Georgia, but similar popularity. Depending on how much risk you need to take based on your standings, taking Auburn is a reasonable upset play, if you need to make up ground.
And then we have Alabama, the largest favorite remaining of the bowl season, and likely a high confidence recommendation for you, and Clemson versus Ohio State.
Good luck today, and tomorrow we will break down some risk-taking possibilities and strategies depending on where you are in your pool.
Thursday, December 31st at 11:15 a.m.
Yesterday was generally a positive day for our picks. The heavy line movement in Oklahoma's favor was driven by several key Florida players opting out of the game, and Oklahoma won easily. Wisconsin was also a big favorite, and after falling behind 14-0, came storming back thanks to several Wake Forest turnovers.
Today is a fairly important day in bowl pools, both based on the games on schedule and how it is positioned as "moving day." After these games, there will be only nine games (if all get played) in the bowl season and we will be past the two-thirds mark.
The first game today, Tulsa and Mississippi State in the Armed Forces Bowl, has been one we have highlighted repeatedly as a value gamble option for an upset pick with Mississippi State. However, as of this morning, the line has moved to Mississippi State being a slight 1-point favorite over ranked Tulsa. With 70% of the public on Tulsa, then, this is a key swing game in pools, where you can pick up some value if Mississippi State wins.
The second game is San Jose State versus Ball State in a showdown of the Mountain West and MAC Champions in the Arizona Bowl. San Jose State is a larger favorite of 10 points, and also fairly popular, so you should see them as the pick in most game winner pick sets.
The final game of 2020 is the Liberty Bowl, where West Virginia meets Army. West Virginia is a value favorite here, as we have them projected for 75% win odds, while about 68% of the public is picking West Virginia.
Because today's game features two of the biggest remaining value plays, and also a larger favorite, most pick sets will have these three games at relatively higher value in confidence point pools. So the outcome of today's games should be pretty pivotal in positioning entries for the end run over the final nine games.
Wednesday, December 30th at 11:15 a.m.
More cancellation news yesterday, as the Texas Bowl was officially canceled. That becomes the third bowl game to be canceled since the full bowl schedule was announced, and another (Liberty Bowl) featured a team dropping out and being replaced by Army.
Turning to today's bowl games, we have two games on the schedule, and both have seen significant line movement over the last two days, so make sure you update your pool pick recommendations to incorporate the latest swings.
In the Duke's Mayo Bowl, Wisconsin was already a 7-point favorite earlier in the week against Wake Forest, but that line has now moved to 10 points this morning, with kickoff coming at noon ET. That line movement and win odds increase makes Wisconsin close to a value favorite, and should have them shooting up the confidence point recommendation board.
The Cotton Bowl tonight has seen an even larger swing in the win odds. Oklahoma was a 2.5-point underdog against Florida on Monday, but that line has climbed all the way to Oklahoma -7 today. That shift in win odds is potentially reflective of some insider knowledge on player availability, as we have already seen a couple of other bowl games with large shifts, where one team had several players out. (And remember, college teams don't have to submit an injury report like the NFL.)
Oklahoma now has 72% win odds from our projections, but is being picked by only 37% of the public. That makes them easily the biggest value of this bowl season so far. So expect Oklahoma to be one of the top recommended confidence point plays at a value you still have available.
Tuesday, December 29th at 11:15 a.m.
The bowl games return to action after a two-day hiatus, with the Alamo and Cheez-It Bowls. These will also be the first bowl games this season featuring Power 5 schools.
The first game is the Cheez-It Bowl in Orlando, Florida, between Oklahoma State and Miami. The win odds and pick popularity are tight in this one, so check right up until kickoff to see our recommendation in game winner fixed point pools. The point spread is currently Miami by 1 point (after Oklahoma State opened as the favorite) and pick popularity is 52% for Miami. So in confidence point pools, you should see this one at fairly low confidence given the toss-up nature.
The second game is the Alamo Bowl between Texas and Colorado. The Longhorns are a 7.5-point favorite and should be the pick in most pools, with the confidence value dependent on pool size. The Longhorns are fairly popular (88%) and so in larger pools you might see them recommended at lower value than in small pools. In small pools, the Longhorns being the third-highest remaining option (by win odds) should be more of a driving factor in where they are recommended.
Sunday, December 27th at 9:30 a.m.
Bug fix news: Before we get to anything else, just a quick announcement that we've fixed a few issues introduced by this new phenomenon of bowl games being canceled mid-bowl season.
In short, if you got picks for your pool via the My Pool Picks screen, then some bowl games happened but a future bowl game also got canceled, things could look a bit screwy the next time you updated your picks. Confidence point assignments for past picks could be shifted, and/or multiple picks could have the same confidence points. That should be fixed now, but if you see anything odd when you update picks, please let us know via the Q&A Forum.
And as we mentioned in last Friday's update, given the nature of this bowl season, you should update your picks every game day if you can (before every game, ideally) to take into account any big changes in team win odds that may be due to coronavirus (or other) impacts.
Now on to football news. Liberty beat undefeated Coastal Carolina in OT yesterday to deliver the most unexpected result of bowl season so far according to public pick rates. We estimate that around 84% of bowl pick'em entries nationwide (it was 90% on ESPN Bowl Mania) picked Coastal in this one, thanks in part to their inflated No. 9 ranking in the AP Pool; our predictive ratings had Coastal at No. 29 going into the game.
So you most likely missed the points in that wild game along with most of the rest of your pool. The relative good news for TR subscribers in confidence pools is that because Coastal was an overrated favorite, the bigger your pool is, the more likely our picks were to give Coastal fewer confidence points than the public at large. (Given the point spread and win odds for Liberty, though, better risk/reward tradeoffs for upset picks were available in other games; mainly, it was too risky.)
So far this bowl season, our Quick Picks pick sets for the larger pool sizes have had a few value picks/gambles go against them, but in confidence points pools those games have tended to be lower confidence point picks. As we noted in our article on the dynamics of the 2020 bowl season, your top confidence point picks exert an even higher influence on your overall score this year than usual.
Saturday, December 26th at 9:30 a.m.
Saturday brings our first three-bowl day of this season, and also the last bowl games until Tuesday. That means we get a little break between games to assess after these first group of games are done.
The three games today:
Louisiana is one of the biggest favorites remaining in bowl season (-14), against Texas-San Antonio in the First Responder Bowl
Georgia State is a 3.5-point favorite against Western Kentucky in the Lending Tree Bowl
Coastal Carolina puts their undefeated season on the line in the night game against Liberty, in the Cure Bowl
We were originally scheduled for four games, but the Gasparilla Bowl was canceled earlier in the week. As we noted yesterday, try to update your bowl recommendations as late as you can before each game to get all the latest information, as two of the biggest swing results have come with late line movement and news of multiple player absences.
Friday, December 25th at 7:30 a.m.
Hawaii over Houston yesterday in the New Mexico Bowl was the first significant upset of the 2020 bowl season, after the point spread for Houston plunged from -13.5 to -7 in the two days leading up to the game. (As game time got closer, Houston announced that 15-20 players would be academically ineligible.)
It's worth noting that Houston still had to do all it could to lose this game. The final score was 28-14. Here's how Hawaii scored 21 of its points:
A TD following Houston throwing an interception at its own 17 yard line.
A 75-yard TD run on the very first play after Houston threw its second INT.
A 92-yard kickoff return TD right after Houston made it 21-14.
In the end, Houston outgained Hawaii 307-267 in offensive yards, with 20 first downs to Hawaii's 11. However, the Cougars went -3 on turnovers and gave up the big swing plays described above. That's how you lose a game as a favorite.
A lot of people missed the points on this game, as Houston had about 80% pick popularity in bowl pools. However, as a -13.5 favorite, Houston was solid value pick coming into bowl season, and as a result got a bit of a boost in our picks for confidence point pools.
At -7, though, Houston was just another overvalued favorite, and not worthy of any outsized bets based on value.
In this especially crazy bowl season, it's already clear that betting lines and team win odds could change unexpectedly and by a large amount at any point up to kickoff.
(There was a somewhat similar situation in the Nevada-Tulane matchup in the Idaho Potato Bowl, with the line for favored Tulane dropping several points closer to game time as it announced players out. Lo and behold, that was the other bowl upset so far, with Nevada winning an ugly game where Tulane also went -3 on turnovers.)
The moral of the story here: If your pool allows pick changes up to kickoff time of a game, you should update your pool picks before every game, or at least on every game day if you can, as close to kickoff as possible.
Our Bowl Pick'em Picks product will take recent changes in betting lines and win odds into account when it recommends picks. Especially in confidence point pools, those recommendations are likely to change if a team has a significant change in win odds.
Tuesday, December 22nd at 5:00 p.m.
Get access to all bowl pick'em pool content, picks and tools
Free subscription offers now available!
Already a premium subscriber? Sign in for access