How Bowl Game Cancellations In 2020 Impact Pick'em Pool Strategy
The reduced number of college bowl games this year, and the ongoing risk of canceled games, have several implications on bowl pool strategy.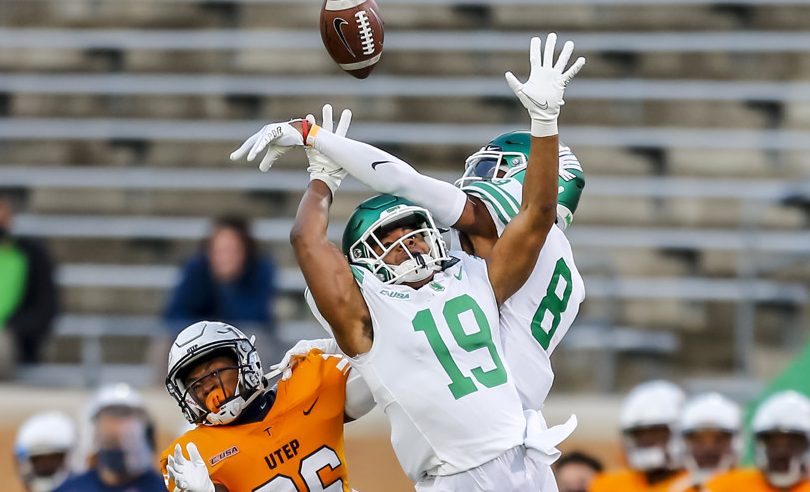 The 2020 bowl weirdness includes North Texas with a losing record out of Conference USA (Photo by Matthew Pearce/Icon Sportswire)
In 2020, there are fewer college football bowl games compared to other recent seasons on account of COVID-19 related cancellations.
In this post, we'll examine how a smaller slate of games, plus the potential for even more cancellations after bowl season starts, impacts optimal pick strategy in bowl confidence pools.
(These are pools where you need to assign a confidence point value to every game pick you make, and if you get the pick right, you earn the number of confidence points you assigned to that game.)
The Initial List of 2020 College Bowl Game Cancellations
Either because of travel restrictions or local restrictions on events, or because of teams opting out of bowl season altogether and fewer teams being available as a result, the following bowl games will not take place this year:
Bahamas Bowl
Birmingham Bowl
Frisco Bowl
Guaranteed Rate Bowl
Hawaii Bowl
Holiday Bowl
Independence Bowl
Las Vegas Bowl
Military Bowl
Pinstripe Bowl
Quick Lane Bowl
Redbox Bowl
Sun Bowl
With two new bowl games added this year (the Myrtle Beach Bowl and the Montgomery Bowl), that means a net loss of 11 bowl games from last season among FBS teams.
Your Top Confidence Picks Are Actually More Valuable in 2020
What does a shortened game slate, and any of other possible weirdness that could be caused by the coronavirus, mean for confidence point based bowl pick'em pools?
To begin with, it means fewer games to pick. And technically, if you need to rank your games from 1 confidence point on up, it also means your top-ranked games are "worth" fewer points than in past years, in terms of the number of confidence points associated with each one.
However, that's a mirage. Even though the top confidence point plays were worth more points than last year in an absolute sense, each individual game outcome is worth more, relatively speaking, this year.
Get access to all bowl pick'em pool content, picks and tools
Free subscription offers now available!
Already a premium subscriber? Sign in for access